Welcome back to Multicore. This is Instruction Set for the week of Friday, November 10th.
Apologies for sending this one out a little later than usual — I was out of town for most of last week and only got back to Tokyo late last night. The trip was a little hectic and took in five prefectures, including Kyoto, Gifu, Ishikawa, Fukui, and Toyama, so I didn't have much time to write.
I think Mondays might make more sense for Instruction Set, anyway. Even though Fridays are typically quiet, publishing on Friday Japan time means I miss a full day of US/Europe news (plus anything over the weekend) and then have to wait a week to address it all. I'll try this out and see how it goes.
What I will say is that if you ever find yourself within reasonable distance of Fukui you should absolutely go to the prefectural dinosaur museum, because it is out of control.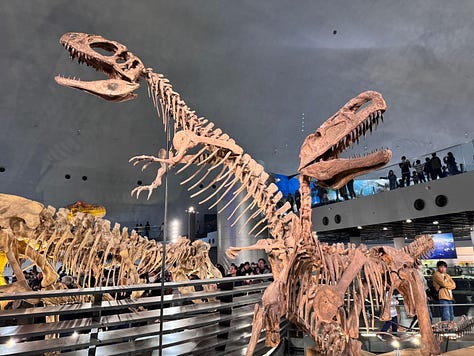 Just a whole lotta dinos.
Here in the Cenozoic era, however, there is tech news to discuss. Let's get into it.
---
Out of nowhere, Valve dropped a new model of the Steam Deck.
Obviously, the main attraction is the OLED screen. It's a 90Hz 1280x800 7.4-inch panel, and like the OLED Nintendo Switch it doesn't have a Pentile subpixel layout — in other words, you get three full RGB subpixels per pixel. That's not the case with higher-res screens that you get in most phones today, but they're sharp enough that you can't really tell the difference. On something like a Switch or a Steam Deck, you would.
But display aside, this is actually quite a substantial reworking of the Deck. Here are the main changes:
Keep reading with a 7-day free trial
Subscribe to Multicore to keep reading this post and get 7 days of free access to the full post archives.